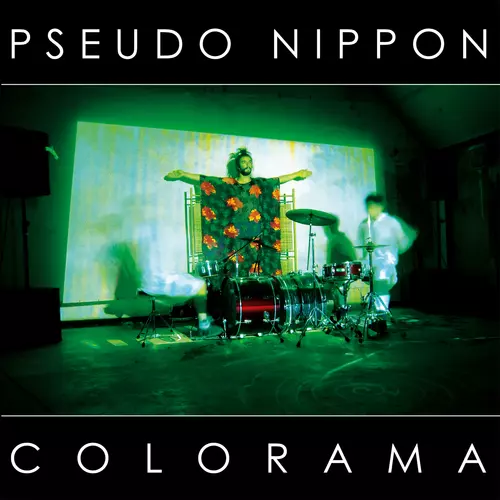 Colorama
Available Formats
Tracks
Price
Buy
12" Vinyl Album
9 tracks

£

9.99

CD Album
9 tracks

£

5.99

Download Album (

MP3

)
9 tracks

£

4.99

Download Album (

WAV

)
9 tracks

£

4.99

Download individual tracks
From £0.69
Description
Pseudo Nippon - Colorama
GET THE MP3s DELIVERED AUTOMATICALLY WHEN YOU ORDER THE LP!

**2-FOR-1 WHEN YOU BUY ANY TWO DIFFERENT CDs**
**2-FOR-1 WHEN YOU BUY ANY TWO DIFFERENT LPs**


Tracklisting:
A1. Sanshin Yo
A2. Lady Cactus Fog
A3. Universal Brotherhood (Cops Say Ow)
A4. Skating Over You
B1. Cat With Shark Teeth
B2. Jewelled Eyes Of A Carp
B3. German Octopus
B4. Paper Moon
B5. Green Surf Death Song


Pseudo Nippon are the combustible three-pronged combination of frontman P-ta and double-drummer outfit Colden Drystone and Dove Kokojin. Together they have melded their chromatic experimental pop into a gleaming whole for second album, 'Colorama', named after the empty, then squatted, photographic factory where it was recorded.


Running for two-and-a-half years, the space became the home and hub of a community of anarchists, activists, artists and gardeners, all of whom commonly enjoyed the taste of beef eggs (a PN speciality). Left without a home, they continue their quest to play intense and cosmic live shows, as well as finding shelter for the night.


Last year's debut album 'Universal Pork Tai Chi' (One Inch Badge Records) was a one-man performance art piece exploring the absurdity of cultural stereotypes in a society homogenised. Pseudo Nippon has since grown to find identity with the fringes of society, expressing itself in the panoramic sprawl of 'Colorama'.


Reviews
"Flashes of warped electro-punk genius" - UNCUT

"There's evidence of groundbreaking music amongst the yelps and deranged sounds" - ARTROCKER


"If you're into Boredoms, Battles, Deerhoof, Lightning Bolt, David Byrne, fun and rackets, you'll love them. If you like none of those things, you won't be bored" - NME


"Peter's Flaming Lips-esque surrealist lyrical ramblings are masterfully offset with intense, glitch edit electronica and some excellent hard funk rhythms" - DROWNED IN SOUND


"Fully formed and will appeal... to those of us tired of homogenised rubbish" - IS THIS MUSIC?


"Their live shows are just as spectacular even if they cant match the budget of Amon Tobin" - SHOK HORROR


Thing of the Day - THE ORGAN


"If you like sonic experiments then Colorama might be for you" - THE WHITEBOARD PROJECT
Tracklisting
12" Vinyl Album (GRRRLP33)
Sanshin Yo

Lady Cactus Fog

Universal Brotherhood (Cops Say Ow)

Skating Over You

Cat With Shark Teeth

Jewelled Eyes of a Carp

German Octopus

Paper Moon

Green Surf Death Song
CD Album (GRRRCD33)
Sanshin Yo

Lady Cactus Fog

Universal Brotherhood (Cops Say Ow)

Skating Over You

Cat With Shark Teeth

Jewelled Eyes of a Carp

German Octopus

Paper Moon

Green Surf Death Song
Download Album (GRRR33)